Remembering Cohnway Johnson
Firefighter Cohnway Johnson, age 26, was a great friend and firefighter. He could always make everyone laugh but was one of the most hard-working men in the department. Joining the department in 2006 Cohnway took every opportunity to grow professionally, achieving certifications through the Texas Commission on Fire Protection for Intermediate Fire Fighter, Fire Officer I, Fire Instructor I, Haz-Mat Tech, and Driver Operator.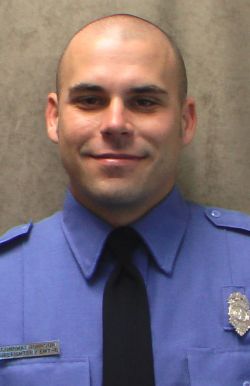 Firefighter Cohnway Johnson
On May 4, 2009 the department lost their brother Firefighter Johnson. Cohnway had tendered his resignation after three years of dedicated service and was on vacation while beginning his training with the Houston Fire Department. After completing a four mile training race on Wednesday, April 29, Firefighter Johnson collapsed and was taken to Memorial Hermann Hospital in Houston.
Firefighter Johnson was in the ICU at Memorial Hermann for five days and was able to receive visitors. He continued to be vibrant in his conversations and continued his typical joking way of interacting with others. Cohnway passed away Monday evening.
The Oak Hill Fire Department will miss Firefighter Johnson greatly and their thoughts and prayers are with his family.
For more information about Cohnway or about heat illness prevention, please visit www.heroeslikecohnway.com
---
The Oak Hill Fire Foundation continues to support the Johnson Family initiative of training others to work in the fire service. More information about the Foundation and how you can help provide for someone to attain certification in the Oak Hill Fire Academy, visit the Oak Hill Fire Foundation's page HERE.
---
The Oak Hill Professional Firefighters Association Local 4253 also continues to support the Johnson Family through the annual Cohnway Johnson Memorial Softball Tournament held each spring. Open to area Fire Departments for tournament play, the annual event brings many departments together for an enjoyable day of softball while raising funds to support scholarships in the Oak Hill Fire Academy. The Johnson Family works closely with the Association to bring this event to fruition each year and reminds us all about the family atmosphere found in the fire service.