Sales Tax Area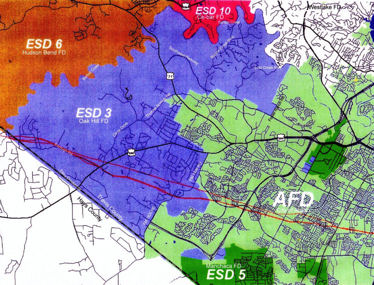 Travis County ESD #3 Sales Tax Area depicted in blue
Please click HERE for information on addresses subject to sales tax in the District.
Meeting Rooms
Interested in the various set-ups of the rooms inside the station? Click the links below to see the set-ups of the rooms used for trainings and meetings.
Barton Creek Station
Interactive Classroom
Classroom
Board Room
Circle Drive Station
Classroom #1
Classroom #2
Classroom #3
If members of the community would like to use the facilities, more information is available HERE.
STARFlight
The STAR Flight program, operating since 1985, has an outstanding safety record. Serving not only the residents in the five-county Municipal Service Area (MSA) including Austin, STAR Flight also provides out-of-county air medical and rescue assistance to 19 surrounding counties. STAR Flight is the only 24-hour / 7-day aerial emergency medical service in Texas that performs highly specialized emergency response services, including emergency medical transport, still and swift-water rescue, search and rescue, high angle rescue, fire suppression/aerial reconnaissance, and law safety assistance. STAR Flight's new fleet provides additional range for providing service to a larger area across the state of Texas.